The US mint released the Mount Rushmore Quarter November 4, 2013, the 26th release of the America the Beautiful series. The quarter portrays the Mount Rushmore on the coin's reverse.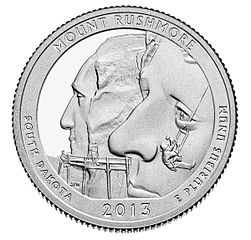 There are several double die varieties of this coin. Generally, the double die occurs on the crook of the nose on Jefferson. Occasionally, the double die is accompanied by a die crack.
This variety is not very valuable. Examples can range from $1-5. Condition is key to the value.
Additional pictures and double die varieties can be found here.